Dr. John Meyer, Hodges University President & Alumnus (B.S. & MBA)
"Like many Hodges students, I started my higher educational pursuits later in life and had to balance a full-time job, family, and college."
What's the success story you want to tell? Let us help you find your path to join the thousands of proud Hodges graduates today.
#MyHodgesStory
Michelle Spitzer
Owner Maid Pro
Bill Lombardo
Collier County Fire Fighter
Eliana Tardio
Communications and Media
"I love Professor [Andrea] Fortin, and I am honored she nominated me for Student of the Month. She is always ready to help, her door is always open to her students, and she is very flexible and creative when it comes to working with adult learners such as myself. I really appreciate that, and I can honestly say that connection has helped me achieve this dream of graduating in the U.S., and now, working towards my master's degree."
"You feel inspired and motivated to expand your personal abilities and be creative, to be your own boss, and to make the change you want to see happening in the world. Getting a degree is not about the title. It is about the knowledge that transforms you so you can become a better person"
Jason Fournier
Operations Manager
Christopher Jackson
Business Administration
Amelia Vasquez
Business Administration Three-Time Graduate
"I had to invest in myself. I felt it [returning to school] would provide better opportunities by creating a new future, and I could become a successful example for my children," she said. "I wanted to gain more knowledge and skills that I could later integrate into the business or future endeavors."
Earning two degrees in four years Amelia committed to devoting proper time with her children, completing her homework for school and providing the best version of herself while at work, Vasquez made it work and completed her MBA in 2002.
"I credit my success to all the passionate and committed professors at Hodges…"you can do this," "follow your dreams." I was armed with the confidence that then propelled me to excel," she explained. "I am confident, driven and passionate, and I encourage anyone contemplating going back to school to look into Hodges."
Paul Haisman
Chief Information Officer
Robert Stevens
VP of Operations Cable USA
Kayla and Ryan Harp
Veteran Graduates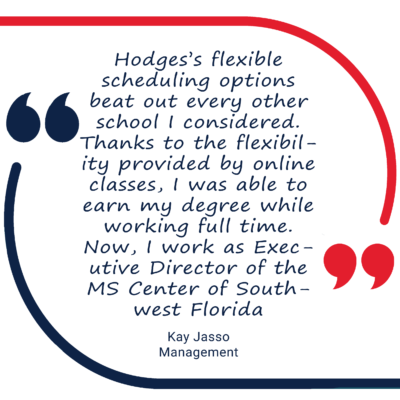 GDPR Notice
We use cookies and other data collection tools to create the best possible user experience, to better understand how they are used please visit our privacy policy page. By continuing to use this site you are giving us your consent to do this.To the extent the General Data Protection Regulation ("GDPR") is applicable to me, by visiting this website I hereby consent to the processing of my Personal Data as defined by the GDPR for the purposes outlined and provided for in Hodges' policies, as amended from time to time. I understand that in certain circumstances, I have the right to object to the processing of my Personal Data. I further understand that I have the right to request (1) access to my Personal Data; (2) rectification of mistakes or errors and/or erasure of my Personal Data; (3) that Hodges restrict processing of my Personal Data; and (4) that Hodges provide my Personal Data upon request in a portable format