PTA Informational Sessions
Dec. 2, 2021 at 6:00pm
Sign Up Here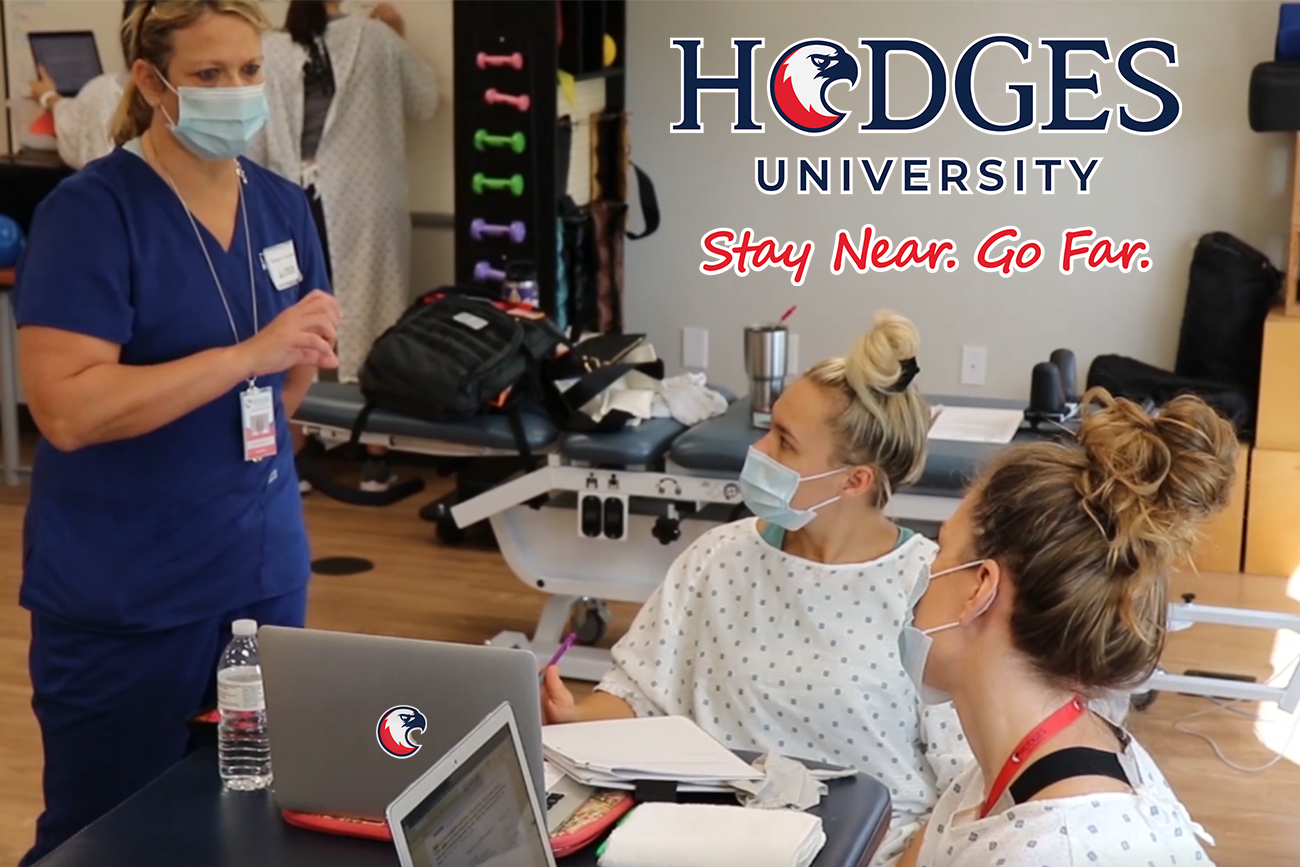 Event Info:
Start Date: December 2, 2021
Time: 5:30pm - 6:30pm
Location: Virtually and 4501 Colonial Blvd, Building U, Room U361 Fort Myers, Florida 33966, Room U361
Take the first step to a rewarding health career as a Physical Therapist Assistant
Learn about how you can get started in Hodges University's CAPTE accredited Physical Therapist Assistant program today.
Interested in becoming a Physical Therapist Assistant? Learn the details of the Hodges University CAPTE accredited PTA program along with scholarship opportunities at a free PTA informational meeting offered both virtually and in person
December 2nd, 2021 – 6:00 p.m.(Virtually or In Person)
To register for the virtual session click here.
The demand for physical therapist assistants is growing. According to the Bureau of Labor and Statistics, the growth for PTAs is 31% between now and 2026. Learn about how you can take the first step to a rewarding health care career by attending our PTA Informational Session.
For more information, contact Dr. Cynthia Vaccarino, PTA program chair, at cvaccarino@hodges.edu or (239) 938-7718.
The Physical Therapist Assistant Program at Hodges University is accredited by the Commission on Accreditation in Physical Therapy Education (CAPTE)
3030 Potomac Ave., Suite 100, Alexandria, Virginia 22305-3085
telephone: 703-706-3245
email: accreditation@apta.org
website: http://www.capteonline.org
If needing to contact the program/institution directly, please call 239-938-7718 or email cvaccarino@hodges.edu.
GDPR Notice
We use cookies and other data collection tools to create the best possible user experience, to better understand how they are used please visit our privacy policy page. By continuing to use this site you are giving us your consent to do this.To the extent the General Data Protection Regulation ("GDPR") is applicable to me, by visiting this website I hereby consent to the processing of my Personal Data as defined by the GDPR for the purposes outlined and provided for in Hodges' policies, as amended from time to time. I understand that in certain circumstances, I have the right to object to the processing of my Personal Data. I further understand that I have the right to request (1) access to my Personal Data; (2) rectification of mistakes or errors and/or erasure of my Personal Data; (3) that Hodges restrict processing of my Personal Data; and (4) that Hodges provide my Personal Data upon request in a portable format