Select A Program
Your future awaits you...
Are You An Employee Looking to Get the Competitive Edge Above Your Competition?
Hodges Connect is a division of the University that provides noncredit opportunities to continue your education.
Jumpstart Your Career as an EMT or Dental Assistant by gaining the professional education and training needed in an accelerated program.
No Pre-Admission Testing
No Previous College Experience Required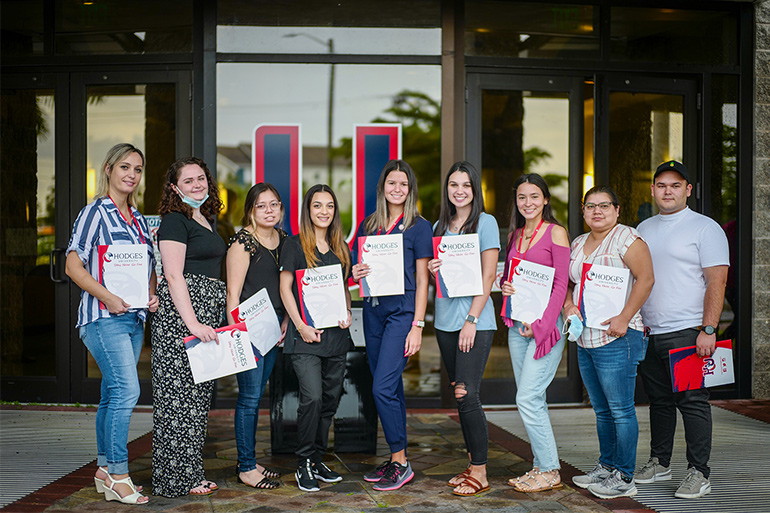 Employers, Why Hodges Connect?
Employers are asking for solutions to close the skills gaps. Hodges University is answering that call with its professional training initiative, through the Professional Education and Training department, AKA Hodges Connect.
"Hodges Connect is designed to prepare the workforce with the employer-demanded skills necessary to succeed in the job markets of today and tomorrow," said Dr. John Meyer, president of Hodges University. "This new platform can be customized to suit any industry and delivered to individuals or a corporate group. This is all about giving our workforce that competitive edge."
We are happy to announce that the Lee County Economic Development Office is funding two accelerated programs at Hodges University that lead directly to employment for residents of Lee County.
Through funding provided by the American Rescue Act Plan, Coronavirus State and Local Fiscal Recovery Fund, Lee County residents may be eligible for scholarships covering the cost of tuition and books for the EMT and Foundations of Dental Assisting Programs
Scholarship Criteria
Must provide a lee county address on valid ID
AND
Must meet one of the following employment status:
individuals who want work and are available for work and I am unemployed
individuals who are employed part time but seeking full-time work
individuals who are employed but seeking a position with greater opportunities for economic advancement
Want To Join The Elite Team Of #HodgesHeroes?
You can with our EMT classes near Southwest Florida!
Program Info
EMT Estimated Program Cost includes books and NREMT exam - $5,370
EMT Class meets on Campus: Mondays & Wednesdays 8am–5pm (Lab), Tuesdays 8am–2pm (Lecture) In person attendance is required
36 hours of self-scheduled ambulance ride time and/or ER clinical rotation (beginning midway through the program)
Mandatory Orientation one week prior to first day of class. Accelerated 7-week program requires a commitment to at least 14 hours of study time each week
EMT Program BLS Prerequisite must be achieved prior to Orientation HU Blended BLS course $95
Apply Now!
2022 Cohort Dates (2023 Dates coming soon)
EMT August 8, 2022 - September 21, 2022
Orientation Date: Monday, August 1, 2022 from 9 AM to 12 PM

Foundations of Dental Assisting Program
Entry Level Dental Assisting certificate through Hodges Connect
Program Info
FDA Program Cost includes books - $1,199
Foundations of Dental Assisting Class meets on Campus Saturdays 9am – 1pm
2022 Cohort Dates
July 9, 2022 - August 13, 2022
October 1, 2022 - November 5, 2022
Apply Now!

Which Industries Can Benefit From This Program?
Every organization in every industry has something to gain by raising the skill set for its employees.
What Topics Will Hodges Connect Cover?
Workshops, Customized Programs, Continuing Education Units, Training and Development can be developed with employers on topics related to health, technology, business, communication, leadership, and diversity. Examples include
Generational Differences in the Workplace
First Line Supervisor Training
Build a Resume and Professional Portfolio
Moving from Peer to Leader – Training for New Managers
Behavior Health Crisis Intervention Training for Law Enforcement
Cultural Competency
Leading Through Change
Body Language Basics
Communication Strategies
Conflict Resolution
Customer Service
Emotional Intelligence
Employee Motivation
Interpersonal Skills
Team Building
Time Management
Workplace Harassment
Get started on your #MyHodgesStory today.
GDPR Notice
We use cookies and other data collection tools to create the best possible user experience, to better understand how they are used please visit our privacy policy page. By continuing to use this site you are giving us your consent to do this.To the extent the General Data Protection Regulation ("GDPR") is applicable to me, by visiting this website I hereby consent to the processing of my Personal Data as defined by the GDPR for the purposes outlined and provided for in Hodges' policies, as amended from time to time. I understand that in certain circumstances, I have the right to object to the processing of my Personal Data. I further understand that I have the right to request (1) access to my Personal Data; (2) rectification of mistakes or errors and/or erasure of my Personal Data; (3) that Hodges restrict processing of my Personal Data; and (4) that Hodges provide my Personal Data upon request in a portable format