Filter
Your future awaits you...
Want to Join the Elite Team of #HodgesHeroes?
You can with our EMT classes near Southwest Florida!
We have the pathway to help you achieve your dreams of becoming a first responder with our EMT classes offered by Hodges Connect.
Let's Get Started!
Sign Up Here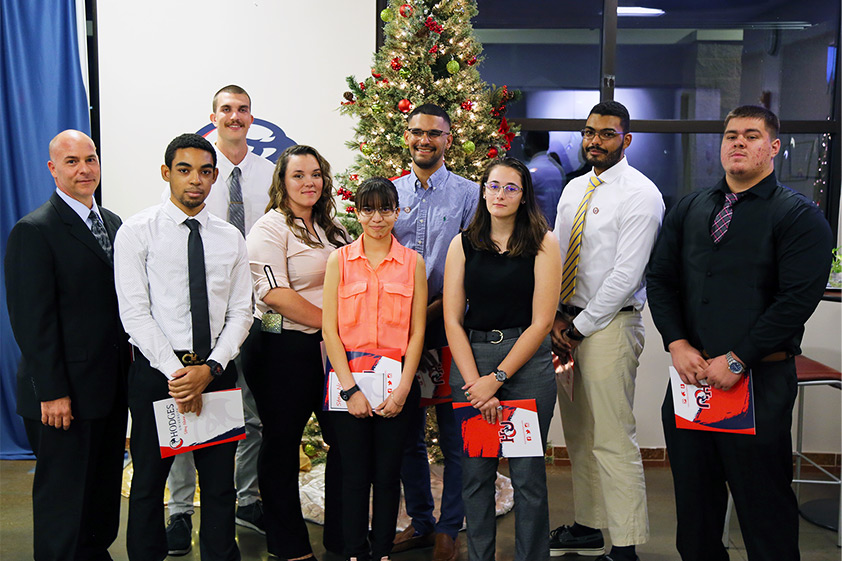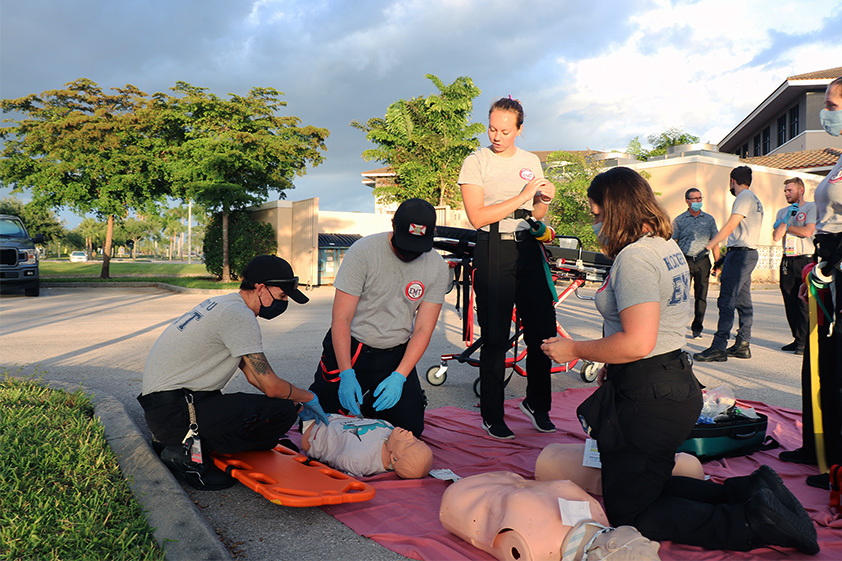 Top 6 Reasons to take the (non-credit) EMT Certification Course with Hodges Connect at Hodges University:
Learn how to give expert care to patients from our Paramedic instructors, who have decades of real world experience.
Practice your skills with our full functioning HU ambulance.
Apply what you learn in our sophisticated simulation labs.
Gain medical procedure experience through lifelike simulated scenarios.
Graduate with the knowledge, skills, and confidence of an Emergency Medical Technician.
Find out if you qualify for tuition assistance.
We have four cohorts available in 2022:
April 25, 2022 – June 10, 2022 Application and Deposit DEADLINE APRIL 15TH

Orientation Date: Tuesday, April 19, 2022 from 9 AM to 12 PM

August 8, 2022 - September 23, 2022 Application and Deposit DEADLINE JULY 29TH

Orientation Date: Monday, August 1, 2022 from 9 AM to 12 PM

October 17, 2022 - December 9, 2022 Application and Deposit DEADLINE OCTOBER 7TH

Orientation Date: Monday, October 10, 2022 from 9 AM to 12
Sign up today to secure your spot in our next session!
Learn about EMTs!
We want to help you understand the industry
How long is EMT school?
You can get all the knowledge and hands-on training you need in just seven weeks. This is half the time offered by other EMT courses near Fort Myers, FL. We value your time at Hodges, so we make sure our EMT program prepares students as fast as possible.
EMT vs. Paramedic
What is the difference between an EMT and a Paramedic? It's all about education and training. EMTs can handle most of the basic health procedures like performing CPR and using oxygen on a patient. Paramedics can perform more complex procedures like inserting IV lines, administering drugs, and more.
The education programs for each profession are different because of this. Also, in Florida you must be an EMT before you can complete the paramedic certificate program.
Hodges University not only offers EMT training but offers paramedic courses as part of our ems programs. To learn more about our paramedic program click here .
Hands on EMT training at Hodges University

Sign up today to secure your spot in our next session!
Hodges Supports You every Step of the Way
Clinical Flexibility. Clinical and internship requirements may be completed at either Lee or Collier healthcare facilities.
Shift Flexibility. Clinical and internship requirements take place during the weekend and evening hours.
Inclusive Program Offerings. CPR refresher and job placement assistance are just some of the services offered with this course.
CareerSource Tuition Assistance. You may even be eligible for low or no cost tuition assistance through CareerSource. To see if you're eligible, fill out an inquiry form with them to start the eligibility process.
Convenience. This program does not require traditional enrollment into the University. There is no need to complete a FAFSA! Just pay the $100 non-refundable deposit (which will be applied to the tuition if you take the course) to start the process.
*If you qualify for full funding from CareerSource, you will not need to provide a deposit to ensure your spot in the program (after acceptance), just notification from CareerSource will be enough to hold your space. So, be sure to apply today to secure your acceptance into the program!*
Sign Up Today to our EMT Program
Get started on your #MyHodgesStory today.
GDPR Notice
We use cookies and other data collection tools to create the best possible user experience, to better understand how they are used please visit our privacy policy page. By continuing to use this site you are giving us your consent to do this.To the extent the General Data Protection Regulation ("GDPR") is applicable to me, by visiting this website I hereby consent to the processing of my Personal Data as defined by the GDPR for the purposes outlined and provided for in Hodges' policies, as amended from time to time. I understand that in certain circumstances, I have the right to object to the processing of my Personal Data. I further understand that I have the right to request (1) access to my Personal Data; (2) rectification of mistakes or errors and/or erasure of my Personal Data; (3) that Hodges restrict processing of my Personal Data; and (4) that Hodges provide my Personal Data upon request in a portable format