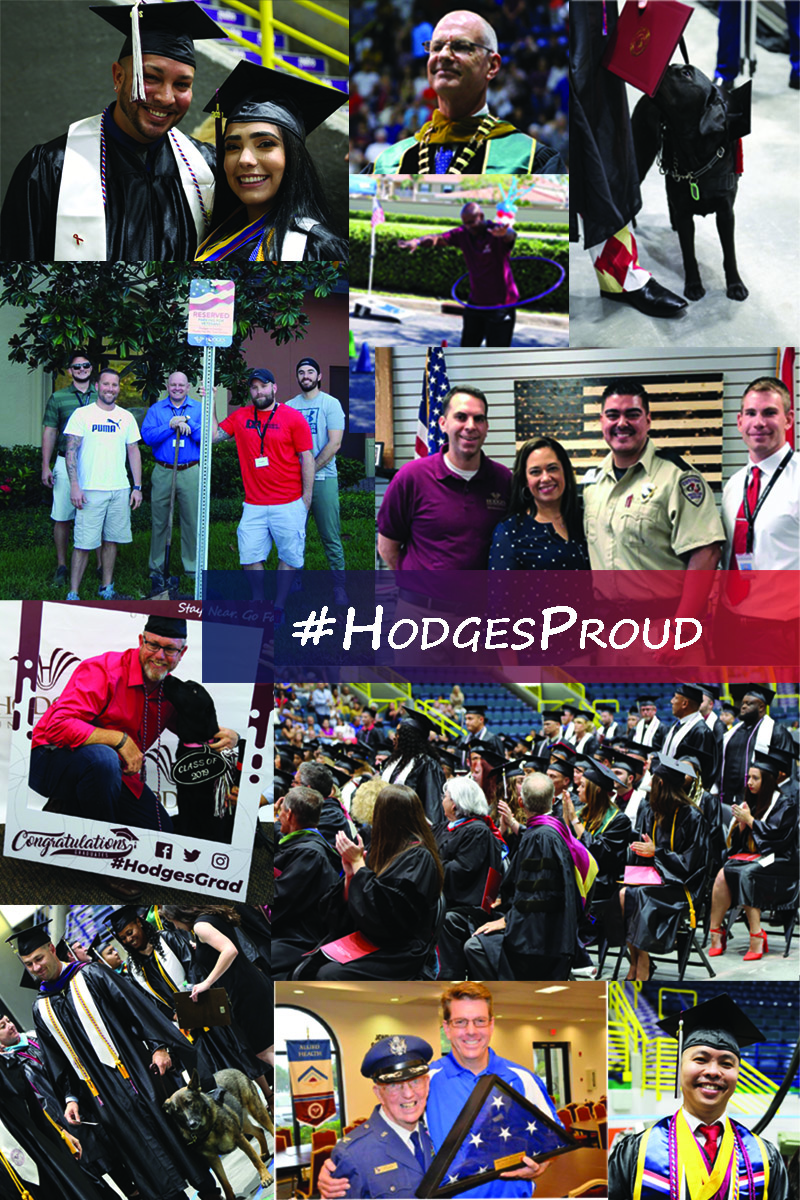 Be Bold. Start at Hodges University Today.
Workforce-Inspired Curriculum

Workforce-Inspired Curriculum.

Yellow Ribbon Participant.

Named "Top 40 Best Colleges in Florida".

Military / Veteran Friendly Campuses w/ Dedicated Veteran Centers.

12 Percent of All Students Have Served in the Military.

Named Military Times Best 2018-2020.

Non-Profit University.

One Class Per Month Hyper Focused Format while allowing for Full- or Part-time Enrollment.

Embedded Certifications inside our Degree Programs

30 Years of Serving Higher Education students

Classes offered Online, On-Campus, Blended, or TEC formats. TEC classes allow you the freedom to take some classes live from anywhere in the world.
Support Services
Veteran Support Beyond the Classroom
Hodges University takes pride in our military and veteran students and it shows. From military-friendly designated parking spaces to dedicated rec rooms, we believe in providing a comfortable atmosphere for our military and veteran students while on our campuses.
In addition, we provide support services, assistance with our application process, veteran-specific financial aid assistance, and help with designing a pathway for your success. We know the transition from soldier to student isn't always easy but we are with you every step of the way.
Military Family Support
We welcome military spouses and families who are looking for support and a place they can call home while their loved ones are serving in the armed forces. Being a Top Military Friendly College, we offer many of the same services available to veterans to their families as well.
Whether you or your family need support and help with finances, job searches, mental health counseling, or transitional support, we are here to assist all of you. Resources are available on-campus and within the community. These resources offer solutions to almost any challenge you may face as a former member of the military. We offer full-time and part-time degree programs, many of which you can take online. So even if you're not sure how long you'll be in our area, you can still finish your degree. Focused on your success, we are here to help you create the life you imagine.
Hottest Degree Programs for Military Students:
Tuition Assistance for Military and Veteran Students
Using Your VA Benefits
At Hodges, we know how important it is for you to make the best use of your VA Benefits. We're experienced in helping you manage the post-9/11 GI Bill® application process. Whether you are eligible for 100% benefits or a different benefit level, we are committed to helping you find as many funds as possible for your education. That's why we also participate in the Yellow Ribbon Program offered by the Department of Veterans Affairs which helps bridge the gaps between the post-9/11 GI Bill® and needed financing for your higher education.
All active duty service members should speak with their Educational Service Officer or military counselor to receive approval before enrolling at Hodges University. HU admissions and financial aid counselors are also available to answer any questions you might have.
Military Tuition Discounts
When you choose Hodges, you'll receive a tuition discount of $100 per credit hour for veterans who are not eligible for VA education benefits or additional tuition discounts. Most veterans receive an educational benefit between 40 and 100 percent.
We also offer tuition discounts to active military. Ask us how you can receive up to $250 reduction per credit hour off our normal tuition rate.
Additionally, our skilled VSC Staff will work hard to help you identify the financial aid for which you qualify so that you can take the next step in achieving Your Success. We are one of a select number of universities that offer services for our military veterans, and we are proud to be here to serve you as you take the next step in your career path.
Military Tuition Assistance Funds
Tuition Assistance (TA) funds are a unique, distinct source of financial aid available to eligible Service members. TA benefits are applied to student accounts before any additional financial aid that the student is eligible to receive.
Students are also encouraged to apply for financial aid to determine what other sources they are eligible to receive. To obtain federal, state, and institutional financial aid (including many scholarships), complete the Free Application for Federal Student Aid (FAFSA). To apply for financial aid, you will need to create a Federal Student Aid ID or FSA ID at the FSAID website and submit the FAFSA at fafsa.ed.gov.
Don't worry if Tuition Assistance or Financial Aid sounds confusing. Hodges' Veterans Services Center Staff is here to assist you with your Tuition Assistance and will guide you through the process of funding your education. You can do this!
Air Force Tuition Assistance
You can apply for Tuition Assistance online at the Air Force Virtual Education Center. You must create a user name and password before accessing the online TA request.
To apply for TA, follow these steps:
Select Reason for Request
Select the School Name
Enter Term Dates
Enter the Course Information
Enter the Registration Fees
Verify TA Information and Submit Request
After your request is approved, you will receive notification of approved TA form. The approved form will have both of the approved signatures. Finally, you need to send a copy of the approved TA form to the Cashier's Office.
Apply For Air Force Tuition Assistance
Army Tuition Assistance
Request Tuition Assistance
After your request has been approved, you will receive notification from GoArmyEd.
If the TA request is not approved, GoArmyEd will provide a reason as well as options.
Finally, you must send a copy of the approved TA form to the Cashier's Office.
Apply For Army Tuition Assistance
Navy Tuition Assistance
Request Tuition Assistance
Contact your Navy College advisor to receive educational counseling and to determine what courses will be requested for Tuition Assistance.
Complete the TA Application form and return to your Navy College Office for processing.
Finally, you must send a copy of the approved TA form to the Cashier's Office.
Visit the Navy College website for more information.
Apply For Navy Tuition Assistance
Marine Corps Tuition Assistance
You must apply for and receive written authorization for TA through the appropriate education office prior to enrollment.
Finally, you must send a copy of the approved TA form to the Cashier's Office.
Visit usmc-mccs.org for more information.
Apply For Marine Corps Tuition Assistance
Alternate Forms of Tuition Assistance
Tuition assistance is not the only source of financial aid that is available to military and veteran students. There are several types of financial aid, including grants and scholarships, work-study, and loans.
Fianncial Aid programs include:
For more information, visit Hodges U financial aid page.
Learn About Financial Aid
Dr. Peter Thomas Veterans Services Center
Dr. Peter Thomas Veterans Services Center
When you visit Hodges University, we invite you to spend some time at our Veterans Services Center (VSC) where you can see for yourself what life is like at Hodges. The mission of the Dr. Peter Thomas Veterans Services Center is to provide a welcoming and informative environment for our veterans and their families. At our Veteran Services Office (VSC), you will receive support and information related to education funding as well as guidance regarding the adjustment to student and civilian life. Whether you attend the Fort Myers campus or Online, you'll find Veterans Services Center Staff ready to help you.
Why is the VSC at Hodges so important? We have found that one of the biggest challenges our veteran students face is finding a sense of belonging and purpose. We understand that many veterans miss the camaraderie they felt while in the service and know that you are trying to figure out the next step in your life. Rest assured, as you settle back into civilian life, you are in good company. Earl Hodges, the university's namesake, was a veteran and was passionate about providing an outstanding education for our veterans, and many of the trustees, faculty, and staff at Hodges U are veterans as well.
The Veterans Services Center staff is here to help you with this challenging transition by providing a place for our military community to meet and talk about their experiences. The opportunity to get to know other military service members will help you find the sense of belonging you need to succeed in your higher education goals.
Who was Dr. Peter Thomas?
We named our Veterans Services Center after Dr. Peter Thomas, an award-winning narrator and World War II veteran who was also a Naples Resident from 1996 to 2016. In 1943, after graduating from high school, he joined the United States Army and served with the First Infantry Division in five European campaigns. Thomas received numerous awards for his service, including five battle stars, one for each campaign, the Bronze Star, the Purple Heart, the Unit French Croix de Guerre, and the Belgian Fourragère.
Thomas spent 13 years as a news anchor for CBS before leaving to pursue his full-time freelance documentary and narration work. Thomas continued his narrative work and has provided voice-over work for numerous television commercials and programs, documentaries, and sports networks such as ESPN. He even provided the voice for the Philips HeartStart automated external defibrillator (AED).
Thomas's passion for those serving in the military never ceased, and in 2004, Hodges named him its Humanitarian of the Year. In that same year, he was also named an honorary Doctor of Humane Letters. Although Peter passed away in April 2016, his legacy lives on in the Peter and Stella Thomas Scholarship, which provides financial support to military veterans pursuing undergraduate or master's degrees.
GDPR Notice
We use cookies and other data collection tools to create the best possible user experience, to better understand how they are used please visit our privacy policy page. By continuing to use this site you are giving us your consent to do this.To the extent the General Data Protection Regulation ("GDPR") is applicable to me, by visiting this website I hereby consent to the processing of my Personal Data as defined by the GDPR for the purposes outlined and provided for in Hodges' policies, as amended from time to time. I understand that in certain circumstances, I have the right to object to the processing of my Personal Data. I further understand that I have the right to request (1) access to my Personal Data; (2) rectification of mistakes or errors and/or erasure of my Personal Data; (3) that Hodges restrict processing of my Personal Data; and (4) that Hodges provide my Personal Data upon request in a portable format