We look forward to seeing you this year at our 31st Commencement Ceremony!
#HodgesGrad
Hodges University Graduation Commencement
Date: Sunday, June 20, 2021
Time: 4:00 p.m.
Location: Hertz Arena, 11000 Everblades Parkway, Estero, Florida 33928
Know Before You Go - Covid Info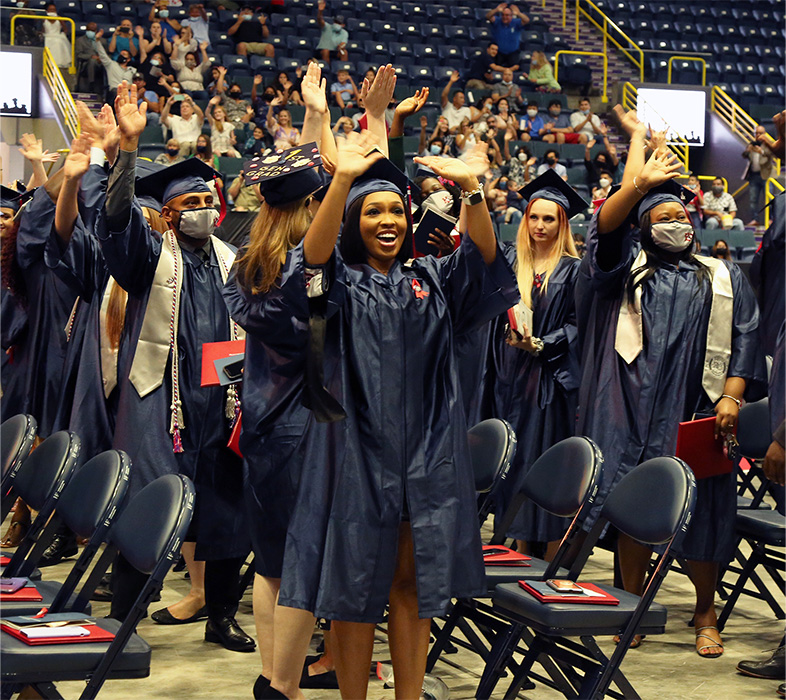 You Did It!
Each year, the graduation ceremony is the most significant academic event Hodges University holds for students and the entire Hodges family. It is the culmination of years of hard work, perseverance, and a personal commitment for students and families alike. A day like this should be celebrated. Our 31st Commencement Ceremony will honor the traditional observances that accompany the celebration of your academic achievement. This year's Commencement Ceremony is open to any student graduating from June 6th, 2019 to May 2nd, 2021.
Below, we have provided a Graduation Checklist designed to prepare you for graduation day and to answer questions regarding the graduation ceremony. This checklist replaces a formal graduation rehearsal. Please review each section for additional information that you will need to be prepared for the June 20th Graduation Day.
1. Complete All Degree Requirements
It is each student's responsibility to complete the Intent to Graduate form at the beginning of his/her last session. Please make sure you have checked with your Student Experience Advisor to verify that you have met all University degree requirements as noted in the university catalog. If you do not meet all requirements, your degree will not be conferred until all requirements are met. Please remember that it is your responsibility to ensure all requirements are met.
2. Order Your Cap, Gown, and Tassel
Students who wish to participate in the graduation ceremony are required to purchase Graduation regalia (cap, gown and tassel) no later than May 21, 2021. Students are encouraged to order their regalia well in advance of this deadline to ensure timely delivery. This purchase is not included as part of the Graduation fee. These items may be ordered online at Herff Jones or in person at the Graduation Celebration Event.
3. Honor Cords, Hoods, and Pins
These honorary items are available for pick up at the Fort Myers campus, or you can also ask a friend or family member to pick up the cords for you. You can also pick them up on commencement day.
4. Order Graduation Photography
Hodges University has hired GradImages as the official commencement photographer for our school and/or commencement ceremony. Three photographs of each graduate are taken during the event:
As you make your way to the stage.
As you are shaking the President's hand in the center of the stage.
After you have exited the stage.
Your proofs will be ready to view online as soon as 48 hours after the ceremony. Although there's never any obligation to order, you'll save 20% off orders of $50 or more for your participation. Pre-registering is simply a way to make sure your contact information is up-to-date with GradImages, so they can provide your complimentary proofs as quickly as possible. To pre-register for your commencement proofs, please visit GradImages.
As part of your graduation and pre-registration participation, GradImages will send you emails, mail paper photography proofs, and may send optional text message notifications.
5. Complete All Degree Requirements
Potential graduates must pass and complete all degree requirements by May 2, 2021, in order to be listed in the Commencement Program.
6. Diplomas
Please make sure to update all your information with the Registrar's Office. The details printed on your diploma will be determined by the information we have on file for you. Diplomas will be mailed to students at the address on file.
We urge all students to check their account status with the Office of Student Accounts prior to Commencement. Please be aware that failure to satisfy all financial obligations with the university may prevent you from receiving your diploma and/or transcripts in a timely manner .
Graduating Student Information
Arrival & Assembly
Please plan to arrive no later than 1:30 p.m. for a review of the ceremony instructions.
Upon arrival, graduates may enter through the East entrance of the Hertz arena.
Each graduate will pick-up his/her name card at tables located behind the stage. Cards are printed with your legal name on it and match what is printed in the Commencement program.
Once you receive your card, please complete the contact information section on the back of the card for the photographer.
This card should be carried by you until it is given to the announcer before crossing the stage.
The card will also have your seat listed in the lower right hand corner.
Graduate seating will be assigned a seat number in either Section 115, 116, or 117 alphabetically, and by program.
Please note that to get to your seat, you must walk upstairs. If this is a problem please let university staff know prior to Commencement Day.
Be sure you have your name card with you before you begin the procession.
Extra caps and gowns will be brought to the ceremony if yours needs to be replaced so please see a university staff member if you have an issue. Please note that there will be a limited amount of extra caps and gowns at the ceremony; if there are problems with your cap and/or gown 4 days or more prior to the ceremony, please come to the Fort Myers campus to speak with the Office of Auxiliary Services about a replacement cap and/or gown.
Dress Code & Conduct
Please come ready to shine!
You are expected to wear the full academic dress (cap, gown & honor cord or master's hood, if applicable) for the duration of the graduation ceremony.
Graduates will put on their caps and gowns after arriving at Hertz Arena. Staff will be available to help.
Please leave all valuables and personal items with family, friends or guests.
Attire traditionally worn with the gown:

Men — dress shirt with collar, dark slacks, plain dark tie, and black shoes.
Women — dark dress, or skirt or pants and blouse, with black, closed-toed shoes. High-heels shoes are not recommended. Flip-flops, tennis shoes, and white shoes should not be worn.
If need be, please press your gown with a cool iron.
The cap should lie flat with the tassel hanging on the front right side. Graduates should be careful not to let the tassel interfere while photographs are being taken.
If applicable, honor cords should be worn around the neck with tassels hanging down from each side. Honor cords will be distributed according to university policy:

Silver & Red for summa cum laude (3.90-4.0 GGPA);
Double Red for magna cum laude (3.76-3.89 GGPA); or
Double Silver for cum laude (3.50-3.75 GGPA).

The university makes every attempt to plan and conduct a meaningful, dignified ceremony. The recognition of your academic achievements should be observed with respect. Disorderly conduct, rowdiness, or the presence of alcohol or drugs will be grounds for immediate removal and may result in your diploma being retained by the university.
Graduates are advised to use the restroom facilities prior to the start of the ceremony, as you will not be permitted to leave your seats once the ceremony begins.
Graduates are required to remain seated throughout the program.
Processional
Graduates are seated in sections 115, 116, or 117 in the order that they will walk across the stage. This order coincides with the way the degrees are listed in the commencement program, alphabetically, and by degree.
You will be asked to move down to the floor area at 3:30 p.m. You will form as many rows as possible behind the stage. When the procession begins, students will continue to move to the floor area as quickly as possible. Students arriving late will be placed behind all other graduates and may not be seated next to others earning the same degree and major. Please be sure to arrive on time.
Processional Order

Grand Marshal Chairman of the Board
Faculty
Master's candidates
Bachelor's candidates
Associate candidates
Certificate candidates
Stage guests

Commencement programs will be provided as you enter the main floor.
Enter the main floor along the north side of the arena. Proceed all the way to the back of the seats, turn right, and turn right again into the center aisle.
Commencement Ceremony Details
After the student and guest speaker are finished, the president will ask all candidates for the master's degree to please stand.
Master's degrees will then be conferred by the president.
Once this portion has completed, you will then be sent to the stage area where you will walk across the stage one at a time to see a pre-designated individual.
Please hand them your name card face up so he/she can read your name.
As soon as you hand off your name card, proceed across the stage as indicated in the chart.
The correct way to accept the diploma cover from the Dr. Meyer is with your left hand. Then, shake hands with your right hand.
This will be where one of the photos is taken so please remember to smile.
The Grand Marshal will then turn your tassel and shake your hand.
The Alumni Network will give you a gift, and faculty will congratulate you before you return to your seat.
Please sit down when you return to your seat.
Bachelor's, associate, and certificate graduates will follow the same procedures.
If you are seated in Section B, please follow the directions given to access the stage and return to your seat.
Recessional
Order of recessional:

Grand Marshal
Stage guests
Graduates
Faculty

Hodges University staff will let you know when your row may exit.
Please do not stop when you reach the area behind the stage as other graduates are trying to leave too.
Try to pre-plan a meeting location with your family and friends as you may exit the arena from either side behind the stage.
Live Broadcast
The live commencement ceremony can be viewed on our home page at 4:00 pm on June 20th, 2021.
Directions to Hertz Arena
From the North: Take I-75 to Exit 128 (Alico Road). Head east on Alico Road to Ben Hill Griffin Parkway. Take Ben Hill Griffin for approximately 3.5 miles south. The Arena is located on the right-hand side.
From the South: Take I-75 to Exit 123 (Corkscrew Road). Head east on Corkscrew Road. Take Ben Hill Griffin north and the Arena is located on the left-hand side.
Parking
The parking lot opens three hours prior to the Commencement Ceremony.
The parking lot opens three hours prior to the Commencement Ceremony.
The parking lot opens three hours prior to the Commencement Ceremony.
Hertz Rules for bringing in personal items *****Please Read
Hertz Arena has strict rules for what is and is not allowed to be brought into the facility. Click HERE for those rules, which will be strictly enforced.
Guest Seating
Guests should arrive between 3:00 and 3:30 p.m.
The arena offers open seating, no tickets are required.
Handicapped seating is available in the south side stands. There is open space for wheelchairs and some free-standing chairs. One guest may sit with a handicapped guest.
Please note that baby strollers, balloons, and flowers are not allowed in the arena. Strollers, balloons, and flowers will be checked-in with Hertz staff and are kept at the main desk and may be picked up after the ceremony.
One concession stand will be open for food and drinks on the south side of the arena.
Parents, family, and friends are encouraged to stay seated, as leaving the ceremony demonstrates extreme disrespect to all in attendance.
Photographs
Please remember no one is allowed onto the main floor or in the aisles to take pictures.
A professional photographer has been hired to take no-obligation photos of each graduate.
Photographs may be taken by family and friends from the seating areas.
Graduating Student FAQ's
Where do I go to pick up my honor cords?
Honor cords are available for pick up at the Fort Myers campus, or you can also ask a friend or family member to pick up the cords for you. You can also pick them up on commencement day.
When can I pick up my diploma?
As a Hodges graduate, you will receive both a digital diploma and a physical diploma. Instructions on accessing your digital diploma will be sent to your Hodges email. Your physical diploma will be mailed to the address that is on file.
Who do I contact if I'm getting an error message when I click a link on the graduation page?
Once you have applied for graduation by completing the Intent to Graduate form, our system won't allow you to do so again. This is why you would get an error message. If you did not complete the Intent to Graduate form, please contact the Registrar's Office at 239-938-7818 or registrar@hodges.edu.
How do I order tickets for graduation? If I need more tickets for graduation, what do I need to do?
When you completed your Intent to Graduate form, there was a place to include the number of family/friends who would be attending. We don't print tickets for graduation, so if you have additional family/friends who would like to attend, they are more than welcome!
Can I decorate my graduation cap?
We encourage you to decorate your cap! Please keep in mind that it should be decorated to reflect all the excitement of your accomplishment, however, it should be done in good taste and respectfully. Please remember that your tassel will be attached to your cap – please do not place anything on your cap that might prohibit the tassel from being placed on your cap .
Can I pick up my regalia at the graduation ceremony?
We highly recommend that you NOT wait until the graduation ceremony to pick up/purchase your regalia. We will have a very limited amount of regalia at the ceremony with an even more limited range of sizes. The most convenient option is to order your regalia any time online at Herff Jones but the last day to order is May 21, 2021. Students are encouraged to order their regalia well in advance of this deadline to ensure timely delivery.
Who do I contact about graduation questions?
For Regalia (cap/gown), master hoods, tassels, diploma frames, appreciation pins, alumni pins, graduation fee, etc., contact the Office of Auxiliary Services at (239) 938-7770 or universitystore@hodges.edu.
For diplomas, honor cords, transcripts (after degree is conferred), contact the Registrar's Office at (239) 938-7818 or registrar@hodges.edu
Stay Connected! #HodgesAlumni
The Hodges University Alumni Network is your pathway to stay connected for networking and meeting your fellow Hodges Alum. There is no cost to participate and so many benefits to being a member. Please keep the Alumni Network updated of any address and employment changes, and/or professional accomplishments so that we may share your successes with others. Contact us at alumni@hodges.edu. A current email address is important for alumni contact and receipt of alumni information.
GDPR Notice
We use cookies and other data collection tools to create the best possible user experience, to better understand how they are used please visit our privacy policy page. By continuing to use this site you are giving us your consent to do this.To the extent the General Data Protection Regulation ("GDPR") is applicable to me, by visiting this website I hereby consent to the processing of my Personal Data as defined by the GDPR for the purposes outlined and provided for in Hodges' policies, as amended from time to time. I understand that in certain circumstances, I have the right to object to the processing of my Personal Data. I further understand that I have the right to request (1) access to my Personal Data; (2) rectification of mistakes or errors and/or erasure of my Personal Data; (3) that Hodges restrict processing of my Personal Data; and (4) that Hodges provide my Personal Data upon request in a portable format